Swimming pool maintenance can be a daunting task, especially for pool owners who want to keep their pool sparkling clean without spending too much time or effort. However, with the invention of CHASING CM600, pool cleaning has become easier and more efficient than ever before.
The CHASING CM600 is a state-of-the-art swimming pool cleaning robot that has been developed and produced by a team of experts in CHASING Innovation. It features cutting-edge technology that makes it one of the most reliable and durable pool cleaning robots on the market today.
Recently, the CHASING CM600 has been generating buzz after its advertisement on the NASDAQ outdoor screen in Times Square, New York. This groundbreaking robot has already received widespread attention, and it's not hard to see why. The CHASING CM600 is a game-changer in the world of pool maintenance, providing an easy, efficient, and cost-effective solution for pool owners everywhere.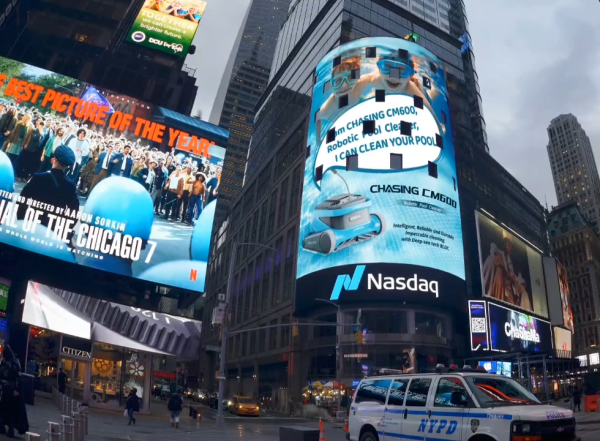 (photo)
One of the standout features of the CM600 is its ultra-long-life deep-sea technology underwater BLDC motor. This powerful motor ensures that the robot is always working at optimal performance and is able to clean every nook and cranny of your pool.
In addition, the CM600 features CHASING Anti-Resonance Algorithm algorithm, which allows for intelligent random path planning and comprehensive cleaning within a limited time. This means that the robot can clean your entire pool in a fraction of the time it would take to manually clean it.
The CHASING Gecko-ClimbTM and lateral translation patented technology also makes cleaning the waterline a breeze. The robot is able to climb walls intelligently and clean every inch of your pool, including hard-to-reach areas.
To ensure that your pool is always sparkling clean, the CM600 is equipped with dual active brushes that are capable of removing dust, silt, and other stains that may be present in your pool. The robot also has multi-layer filters that can accurately filter dirt of different sizes, providing effective protection for cleaning.
In conclusion, if you're tired of spending hours cleaning your pool or if you simply want to make pool maintenance easier and more efficient, the CHASING CM600 is the perfect solution for you. With its advanced technology, powerful motor, and intelligent cleaning capabilities, the CM600 is a must-have for anyone who wants to keep their pool clean and sparkling all year round.