In many ways, the Internet is similar to the world's oceans in that there are vast parts that remain untouched and deemed too dangerous to even explore. Just as most people prefer to stay safely on land where they're most familiar, internet users also stay within the boundaries of search engines like Google, social networking apps, information websites, entertainment, business, and shopping.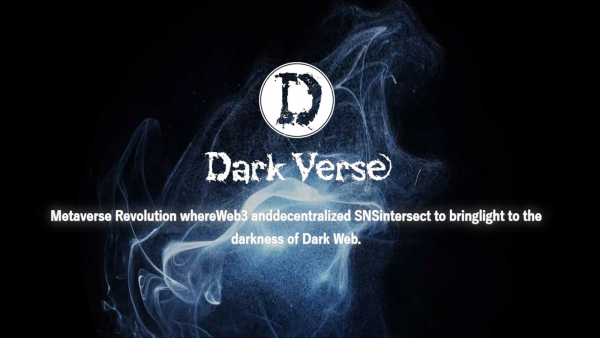 However, there's a part of the internet called the "Dark Web" which only a niche group of people dare to venture into that often contains information about people, countries, and businesses that should not be disclosed. The Dark Web or "Dark Net" is also inhabited by those who've been banned or censored by Web2 social media networks, and for those who want to retain their online autonomy.
One goal of Web3 is to step beyond the walls of the traditional web and into the realm of decentralized SNS to pursue online privacy and freedom, which have in recent years been exploited and even crossed the red lines of many people's ideas of what boundaries should exist between them, the internet, and other persons.
Dark Verse has grasped this problem and is working towards a solution. Dark Verse is a Web3 project that seeks to bring light to the darkness of the Dark Web through a newly established metaverse and blockchain-powered decentralized SNS.
Dark Verse Is Employing Blockchain Technology To Create A New Iteration Of The Internet
Dark Verse is in the early stages of creating an innovative experience that combines the Dark Web and the Metaverse through a uniquely developed blockchain platform.
Inside the Dark Verse metaverse, users will be able to browse, search, buy, and sell information such as videos and conversations. However, Dark Verse has recognized a particular market for their platform's use case: videos.
The Metaverse, often represented by "Ready Player One" and other visionaries, will allow for convenient social networking and online discovery in search, chats, and videos, just like how YouTube and Twitter revolutionized Web2 social networks. What's special about the Dark Verse's future metaverse is that there will be no content censorship and users can enjoy an immersive experience that incorporates the entertainment that one can experience on the Dark Web, but in a positive light.
Simply stated, Dark Verse will make published, voice, visual, artistic, and video content available on their metaverse platform, which will be powered by blockchain technology.
In addition, the Dark Verse will strive for cryptocurrency to realize its true potential by disrupting and improving industries and concepts such as financial inclusiveness, remittances, charity, donations, identity protection, overcoming the digital divide, and election financing.
The Dark Verse has targeted a decent number of problems to solve, and it faces the task now of building the infrastructure and community to work together towards solving these problems.
The Dark Verse will seek to protect anonymity, privacy, freedom of information, and diversity of expression, drive innovation and technology, and use blockchain technology to realize the above aspirations.
Dark Verse will have avatars, rooms, NFTs, and a Dark Token to run the platform and economize its products. In the future, Dark Verse's roadmap includes being able to sell metaverse NFTs on a marketplace, facilitate content transactions, being able to use a DEX in the metaverse, and use the $DARK token as a utility token for metaverse payments, avatar expenses, rooms, and video purchases.
About Dark Verse
Dark Verse is a Web3 project that seeks to bring light to the darkness of the Dark Web through a newly established metaverse and decentralized SNS, through the use of blockchain technology.
For more information, visit Website | Twitter | Telegram