HAM will soon launch HAM Game World, a Metaverse 2.0 GameFi aggregation platform, to create a Web3.0 game platform that integrates SocialFi, DeFi, DAO, NFT and GameFi, building a free and open GameFi community, achieving a win-win situation for the platform, developers and players, and create the first scene of the Metaverse virtual world.
Developed by the famous Canadian GameFi company INS LABS, HAM's core members include senior blockchain engineers, top Wall Street traders, professors from higher education institutions and investment bank fund managers. The team has spent three years improving the HAM platform to create a next-generation game platform unicorn which leads the trend of Web 3.0 games.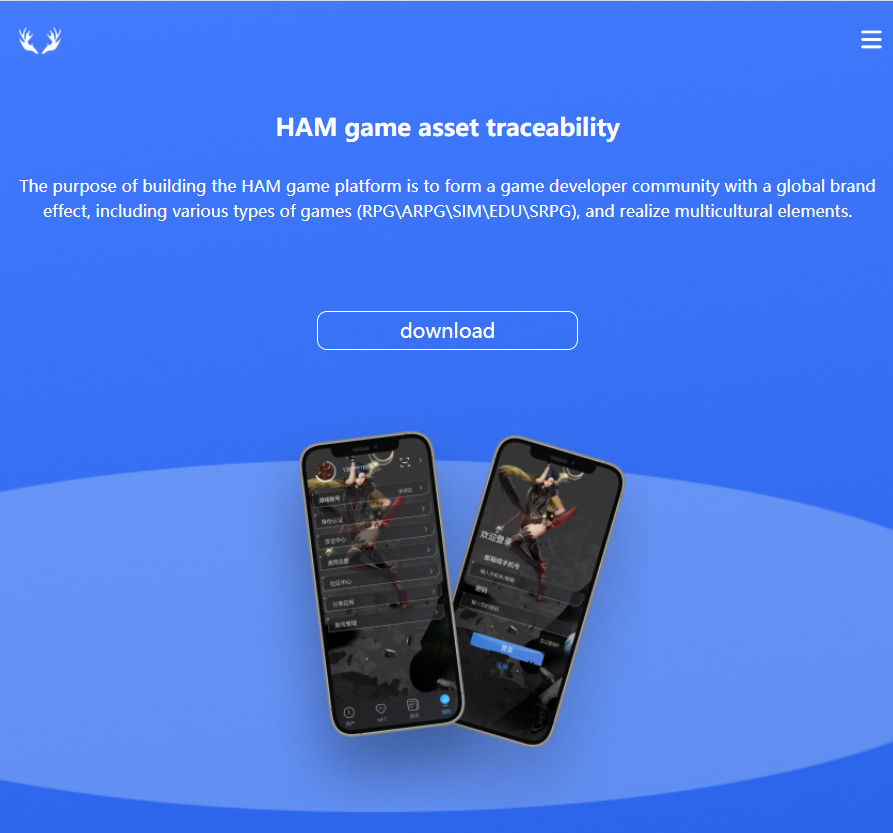 The news that the HAM platform will be launched soon has attracted the attention of major mainstream gaming communities and Metaverse communities around the world. Fans from around the world spontaneously established HAM evangelism communities, and within a week, over 100 HAM communities emerged, covering more than 30 countries such as North America, Singapore, Malaysia, the UK and Germany, accumulating over 200,000 potential users.
Popular secret-key of HAM.
HAM helps users make transition from the Era of Web 2.0 to the Era of Web 3.0, where developers and users can put forward their demands and needs to jointly build gaming ecosystem, manufacture equipment, characters, scenes and other NFT elements, introduces countless game ecologies into the digital world of virtual life, allowing game assets to grow with unlimited possibilities, and return the value of community rewards and data assets back to users themselves.
For developers, HAM provides a one-click embedded instrument that empowers traditional games with blockchain and Web 3.0 attributes in order to build a world-class game ecosystem with blockchain advantages without complex development process. For GameFi projects, HAM's naturally huge user ecological pool helps GameFi projects to develop second time around, where high-quality GameFi projects will be recommended by the platform and get massive users on the platform, GameFi projects only need to focus on the improvement of the gaming ecosystem and offer best games, and HAM will do the rest, through more effective Web3 marketing and DAO governance mechanism to connect GameFi projects with users.
For players, HAM filters out inferior projects and accesses all mainstream, high-quality GameFi projects in the market, integrating the mainstream public chain game ecology in the market through cross-chain technology, including Ethereum public chain, Bianace smart chain, etc. Moreover, HAM will continue to aggregate high-quality tools to achieve the goal of allowing players to perform all chain synchronization operations at one terminal, which will be equipped with tokenpocket wallet, community DAO (Decentralized Autonomous Organization), NFT MarketPlaces, Swap, GameFi launchpads, etc. Users can be one step ahead of others and participate in high-quality GameFi and NFT projects in the market.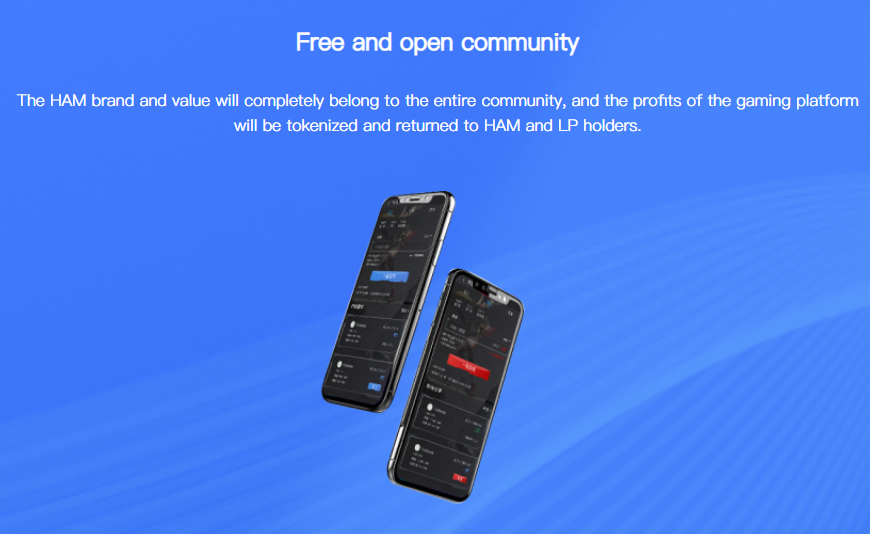 Three Advantages of HAM.
1. Open to public, win-win. HAM adopts the SocialFi mechanism and DAO governance model to return the governance and decision-making power of the platform to the players, who can share the profits brought by the ecological development with the developers. Players have absolute control over their own data and social behaviour, building a perfect autonomous economic system, allowing them to build their own community and become opinion leaders, harvest their own fan base and earn money through their social output.
2. Ecology Interoperability of GameFi. HAM is not just a game world, it aggregates loads of game ecologies, thus formed a truly independent web3.0 multi-game world. Traditional games, blockchain games, and multi-chain games are all linked through HAM, where players can play mainstream global gaming ecosystems. HAM has set up a GameFi launchpad to host both mainstream and rare GameFi projects, allowing platform users to participate in GameFi projects before anyone else.
3. Unique Token Economy. The platform Token HAM, not reserved, all back to the market, the founding team does not have a token, the only way to obtain through mining and market purchase, 85% of which comes from the community to build output, users through their own contribution to the platform to obtain HAM revenue. HAM, as the only token on the HAM platform, has the role of dividends, voting, casting NFTs, participating in super nodes, and participating in the ecology of all HAM games. It will become the identity token for all users on the platform.
Along with the launch, HAM will open up the global eco-partnership and super node ecology, as well as run a global Airdrop Activity, allowing users around the world to embrace the dividends of the times.
HAM will build a global ecological community, continue to build the underlying infrastructure of Web3.0, aggregate high-quality NFT and GameFi projects to create a Metaverse game platform that accommodates millions of users, connecting the virtual and real worlds, linking the future with global users, and pioneering the next generation of Metaverse world.