2021 is the first year of Meta Universe and NFT. Many high quality projects have sprung up like bamboo shoots after a rain. For example, Axie in the GameFi sector has pushed the heat to a climax. However, in the development process, NFT-related issues have also been exposed and flowed. Sexual issues, interesting issues, etc. At this time, the emergence of PathDAO made up for this gap and was widely recognized by community members.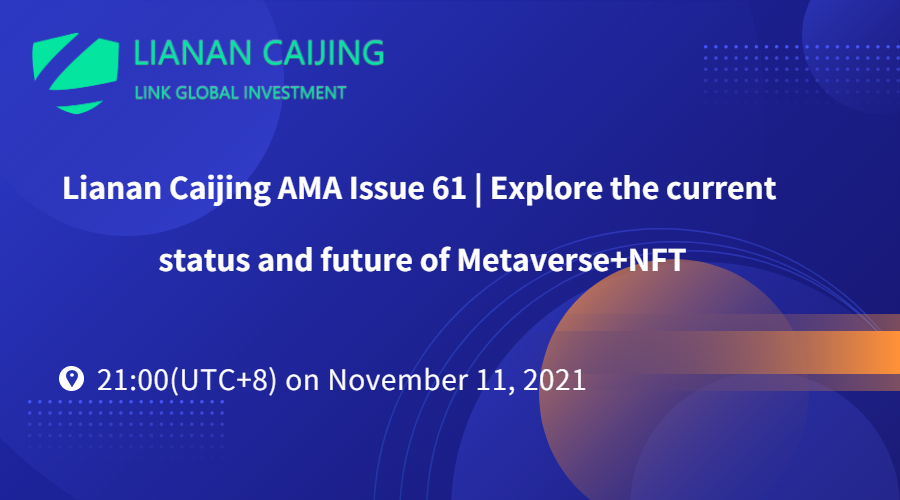 Today, Lianan Caijing invited ETEM, the founder of PathDAO, to share the theme of "Exploring the status and future of Metaverse+NFT" and reveal the secret behind the explosion of PathDAO.
ETEM, the founder of PathDAO: Graduated from the world's top ten well-known universities, and used to be a management consultant for BCG Southeast Asia. He began to deploy Bitcoin and Ethereum in 2015. Since Axie started, he has purchased 6 dollars and holds Punk, BAYC, Cyberkongz, Mystic Axie, leads a scholarship association at Axie Infinity. Founded pathDAO to develop blockchain games and NFT projects.
Moderator Q&A Session
Lianan Caijing: Metaverse and NFT are the two most popular sectors in 2021. How does ETEM view the development of Metaverse and NFT?
ETEM: For me, Metaverse is inevitable. NFT is a key part of this megatrend, especially when Facebook and other large technology companies shift their focus to Metaverse. Although it sounds complicated, the meta universe is essentially that people spend more time in the digital world than in real life. This has great economic significance. Because in the future, you will earn more money in the digital world than in real life. For example, traditionally when people go to a concert or large-scale event, people will buy beautiful clothes/suits and rent a beautiful car to participate in the event. But now in Metaverse, people no longer need to spend money on these projects.
Human beings are an interesting creature. Although we are constantly educating everyone to be equal, we attach great importance to social values and are only willing to hang out with people of the same class or even higher in the society. In real life, we can achieve this by buying high-end items such as watches or cars, but in Metaverse, because everyone can copy/paste other people's items, we need NFTs. NFT is essentially a blockchain technology that identifies ownership of items. So yes now, you can copy and paste my PUNK, but I own it.
To sum up, as more and more people spend time in the digital world, in a sense, the meta-universe already exists. NFT is a very important element in Metaverse to identify the ownership of assets
Lianan Caijing: PathDAO has successfully combined the NFT and meta-universe sections. Can you briefly introduce PathDAO for us?
ETEM: PathDAO is a DAO that creates value for investors and gamers in Metaverse. We create value by doing three things.
1. We have purchased an asset project that we expect to increase in value in the virtual world. Like I said, as Metaverse becomes an inevitable trend, high-quality virtual assets (NFT) will become more expensive. For example, some prime locations in the city center and historical objects or game objects.
2. We rent out asset items to other players. Today, we have more than 100 goldsmiths on behalf of us to spend a few hours a day playing games in the meta-universe. In this case, we rent out our assets to let them play and make money. In return, we get rental income.
3. We create the NFT project. We have just recently launched our first NFT project to allow owners to jointly generate the final form of art. We raised about 150 eth by selling NFT. If done well, starting an NFT project is one of the most profitable businesses. Usually the cost is around 10eth, but if sold out, hundreds of eth can be raised.
To summarize, we buy assets, we rent metaverse assets, and we create and sell NFTs.
Lianan Caijing: Compared with other GameFi projects, what core advantages does PathDAO have to attract investors to participate?
ETEM: Our advantages can be summarized into the following 3 aspects:
1. Knowledge: We are proud of sophisticated investors who can generate returns that are better than the market. In the third quarter of 2021 alone, our investment portfolio generated a return of 32 times through investments in Axie Infinity, Illuvium, NFT, etc. In addition to investing in the play and earning ecosystem, we also have an in-depth understanding of the DeFi market, such as liquidity provision, arbitrage trading, and perpetual contract financing rates. So we want to use our skill set and invest on behalf of pathDAO and create returns for our DAO members.
2. Southeast Asia: Southeast Asia, with a population of 600 million, is expected to become one of the fastest growing economies in the world. Given our previous experience in startup and management consulting, we have a deep network and contacts in this field. We can use our contacts to establish business partnerships with local companies and generate demand for our NFT projects.
3. Community support: As the owner of Punk, BAYC, cyberkong, and mystic axie, we have a very close relationship in the field of Metaverse and NFT. Most transaction flows and the best investment opportunities are first discovered in these communities, giving us a first-hand advantage in these over-the-counter transactions and intelligence.
Lianan Caijing: NFT collectors are very concerned about the liquidity of NFTs. Many NFTs that have been popular in the market in the past will face the problem of insufficient liquidity. How does PathDAO solve the problem of liquidity?
ETEM: We agree that the value of most NFT projects will be zero, because most of them are just copies of existing successful projects. We have the ability to overcome this by:
1. Community: Given our current interpersonal relationships in the Punk/BAYC/Kongz space, it is easier to get influencers to market our NFT projects. Our first NFT OurPath is a good example.
2. Local network: We see that the future demand of NFT will be driven by current celebrities or artists. For example, recently a Malaysian singer Huang Mingzhi just released the NFT of his song and has since sold more than 400 eth. We have good connections with local artists in Southeast Asia, and are already discussing with some of them about launching their NFT on the pathDAO platform. Basically, we used their reputation and influence to launch NFT on pathDAO.
3. Increase production: There is currently no benefit from buying NFT, which is a big pain point in the investment community. We plan to solve this problem by integrating the pathDAO asset with NFT. To put it simply, all purchases of pathDAO NFT will get pathDAO tokens, which in turn owns a part of the pathDAO vault. Therefore, all the funds we raise through the sale of NFTs will be used for asset investment and then generate income for these NFT purchases. Now they have more motivation to buy our NFT, not just art.
Lianan Caijing: Please introduce PathDAO's token economic model and value expectations.
ETEM: The PathDAO economic model is very simple. All funds raised through the sale of NFTs or token sales go directly to our treasury. PathDAO token holders own 100% of the capital pool. For example, today we raised approximately 400 eth at a price of 0.01 USD per token. If the PathDAO team can increase the value of the treasury by 10 times, by default, based on market valuation, the token value should be increased to $0.1 per token. In the future, PathDAO token holders can vote and decide to distribute the funds in the treasury to token holders in the form of dividends. If we compare our current valuation with YGG, MC and Blackpool, we think we have at least 8-50 times upside potential.
Lianan Caijing: According to the official website, PathDAO is about to start IDO. Can you introduce the current situation and next steps?
ETEM: We will hold our IDO at 10pm (UTC+8) this Sunday. It will take the form of a Dutch auction, with a starting price of $0.4 per token, and then gradually decreasing to $0.015 per token (assuming there are no buyers at all). This ensures that community members have a fair chance to buy our tokens.
We are currently in contact with a number of venture capitalists to raise funds for the next round. In this case, we are special, because under normal circumstances, venture capital is the first investor to invest at the lowest valuation. But we want to make sure that our community members can invest at the lowest valuation, and then make a more expensive round of financing with venture capital companies.